Joel Barker's Strategy Matrix® is a Strategic Exploration Tool.  It provides essential decision-enhancing information on how trends, innovations, policy changes, or competitor actions affect an organization's strategic objectives and key characteristics. b b
The Strategy Matrix identifies the possible impact of Trends, Innovations, Policy Changes, Initiatives, or New Strategic Objectives on an organization's (or individual's) strategic objectives and key characteristics.
Licensing includes team workshops and online options!
b The Strategy Matrix helps individuals and organizations:
Set priorities for choices in organizational direction

Create an ongoing process for exploring the strategic landscape.

Track environmental forces.

Determine vulnerability of strategic objectives to competitor's actions.
Test the efficacy of new strategic objectives on already committed-to objectives.
Set priorities for funding requests.
Guide strategy discussion efficiently and fairly in a way that gives everyone the opportunity to contribute.
b
Career Strategy Matrix – with "Strengths"/"StandOut"
b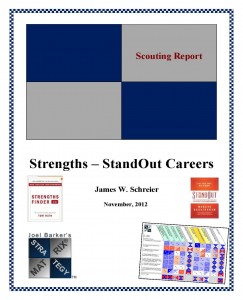 More Information b
Click on "Contact" to request a complimentary copy!